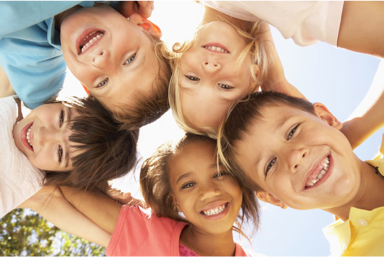 05 Feb

National Children's Dental Health Month

February is a special month here at Spring Orthodontics because it's also National Children's Dental Health Month! February is a perfect time to reflect on the importance of healthy teeth. Instilling excellent oral health and habits in kids is the first step in ensuring healthy teeth for a lifetime. Did you know that children who have healthy baby teeth are more likely to have adult teeth that are healthy and cavity-free?
The American Dental Association has identified 5 important points to remember in your quest for healthy teeth and a happy smile:

TIP #1 BRUSH YOUR TEETH TWICE A DAY
This may seem obvious, but you'd be surprised how many kids admit to only brushing once a day. Why is it so important to brush at least twice a day?

Brushing removes plaque, prevents bad breath, keeps your teeth white, and keeps your gums healthy!

After eating a meal, leftover food mixes with bacteria inside your mouth to form plaque. This plaque is easier to brush away while it's soft. If it's not brushed away within hours, the bacteria within the plaque feast on and digest the food particles, forming acid that sits on your teeth and eats away at your enamel. This corrosive process results in tooth decay, which is a fancy way of saying "a hole" or "cavity" in your tooth.

The acid and anaerobic bacteria release sulfur compounds, giving you bad breath or "halitosis." Be sure to brush your teeth AND your tongue to remove these microbes, and your toothpaste adds a nice minty scent!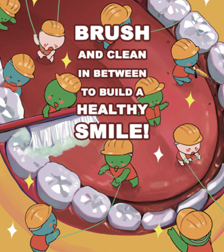 Plaque that sits on your teeth calcifies, becomes tartar, and cannot be brushed away. Tartar remains until your dentist or hygienist scrapes it away at your next cleaning. Tartar makes it hard for your pearly whites to stay white because it gives off a yellow hue, discoloring your teeth. Don't let your plaque turn into tartar. Brush and floss it away twice a day!
Also, brushing with a whitening toothpaste keeps your pearly whites WHITE! Whitening toothpaste contains baking soda and hydrogen peroxide, thus removing stains and boosting the whiteness of the teeth.
We've been focusing a lot on your teeth, but brushing is also very important for the health of your gums. The acid that's formed from plaque sits against and irritates your gums, resulting in inflammation or "gingivitis." If the inflammation continues, gum disease results. This gum or "periodontal" disease causes your gums to bleed and can progress to bone loss, resulting in tooth mobility and, eventually, the loss of teeth. Brushing is the first step in preventing periodontal disease.
TIP #2 FLOSS YOUR TEETH
Brushing is great for all the reasons listed above, but flossing is extremely important too! Flossing removes the food and plaque between your teeth, which also prevents cavities between your teeth, and plays a big role in preventing periodontal disease.
TIP #3: SEE YOU DENTIST REGULARLY
A trip to the dentist allows your child to receive a dental cleaning, fluoride treatment, a check for staining or cavities, and radiographs that help detect cavities between the teeth. Be sure to visit your dentist twice a year for a dental check-up!
TIP #4: EAT A HEALTHY DIET
A diet rife with sticky candy and acidic sodas makes it easier for the plaque to coat the teeth and begin its destructive process. A diet that includes calcium-rich foods, vegetables, and water is best for the health of your teeth.
TIP #5: SEE AN ORTHODONTIST BY AGE 7
Keeping the baby teeth healthy is important because they are future space holders for the permanent teeth. The American Association of Orthodontists recommends that children have their first orthodontic evaluation at age 7 so your orthodontist can detect any potential problems with tooth eruption, and ensure the upper and lower jaws are in a good relationship to each other.
Most patients do not need early orthodontist treatment, but in certain cases early intervention can prevent more difficult orthodontic treatment down the road, or eliminate the need for orthodontics altogether.
Do you have questions about your child's dental health? Feel free to contact our office for a complimentary consultation. We are located in Western Springs, IL and would be happy to answer your questions!